News Details
G.I. Joe Modern Era - Destro vs. Scarlett Combat Heroes
TJ Maxx is a great place, isn't it? When you walk in on any given day, you just don't know if you're going to find a great deal on some blue cheese stuffed olives, a Le Creuset roasting pan or some 2 year old G.I. Joe figures. Yep, that's right - this week when I took a quick peek into the TJ there was a surprisingly full range of
G.I. Joe Modern Era
figures on hand! They had a selection of 12", 3 3/4", comic packs and combat heroes - quite extensive! There was even a
Mercenary Wraith
on hand, though sadly not the clear variant that I never did find. A pleasant surprise however was a lone Destro vs. Scarlett Combat Heroes 2-pack, which happened to be a lingering hole in the collection! Well, that oversight has been repaired, so click the image below for a gallery of this last item in this sub-line. Now I just have to track down all of wave 3, which never saw a mass US release!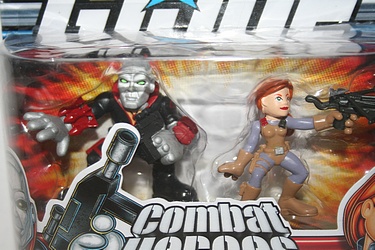 Posted by charlie on March 26th 2010, 06:39 AM
Leave Comment

Share
---
No comments have been posted.
---