Latest News



eBay Watch - STARCOM Collection
Talk about a starter collection! If you have been meaning to get into this line, I guess you could save yourself a lot of time and go for this lot! Granted, shipping from the UK is a little steep, but if you happen to be over there across the pond, then you could do worse than this set. While not complete, you get nearly all of the vehicles, and the Starhawk (but not, of course, the Six Shooter) and the figures will be up to you to track down. Give it a look, what what?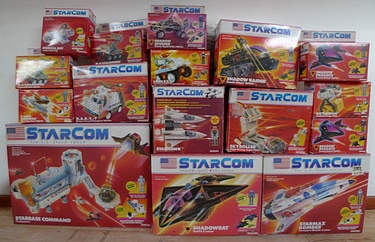 Posted by charlie on May 7th 2013, 08:49 PM
Leave Comment

Share
---
eBay Watch - Shadow Strikers - Hurricane
I've turned my attention this week to the old Shadow Strikers line by Kenner. After M.A.S.K. was deep-sixed when it lost it's way in the 'racing' series, Kenner followed up with this line of transparent vehicles in 1989 and 1990. I never actually had any of these, as best as I can remember, and it's fun to be learning something about the series now.
As opposed to the later '90s series Vortech, which was apparently poorly collected and now commands high prices and scarce sightings, the Shadow Strikers at least appear available and at somewhat manageable prices. So - have a look at this auction, as well as a few more this seller has. You and I might both start Shadow Striker collections this week!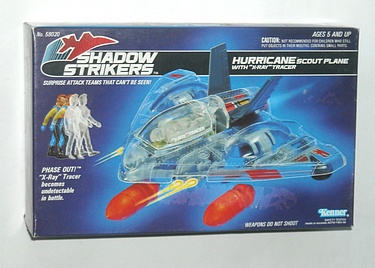 Posted by charlie on May 2nd 2013, 06:21 PM
Leave Comment

Share
---
eBay Watch - Bandai Diecast Inspector Gadget Vehicles
I've never seen these before, and they are beautiful. The Gadget Mobile even, as you would hope, transforms. The auction was ended almost as soon as it appeared several days ago, so I am to assume that someone reached out to the seller and offered them a good enough best offer to yank these from the market with breathtaking speed.
I do have to recommend checking out this listing, and the very generous additional pictures that the seller snapped of these rare items.
Go go collection crown jewel!
Posted by charlie on April 26th 2013, 08:54 AM
Comments(2)
Leave Comment

Share
---
eBay Watch - Rock Lords Dragon Stone by Bandai
The auction for this has ended, but it appears to have failed to sell which is somewhat amazing, even at the asking price of $159.99. I've certainly never seen a boxed example of the Bandai version of Dragon Stone from the Rock Lords line, and it is quite beautiful. Click through the image below for more details about this auction gone by, and join me in hoping that the seller takes another shot at selling this rare figure!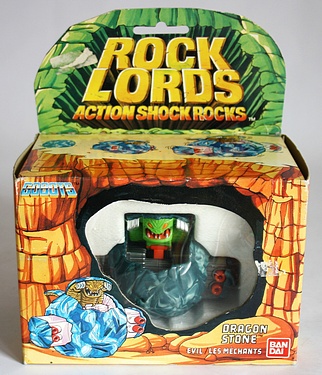 Posted by charlie on April 14th 2013, 08:17 PM
Leave Comment

Share
---
eBay Watch - JEM 1986 Style Guide
Here's a truly outrageous artifact from 1986, and something that puts the best intentions of most company paperwork these days to shame. A hot pink JEM record is the first thing you see, but it opens up to contain style and design guidelines for the new pieces in the line. I'm just delighted by the obscure nature of this piece, not to mention the bold colors and 80-rific designs! One of us should certainly add this to their collection! Oh yeah, $650 - heh.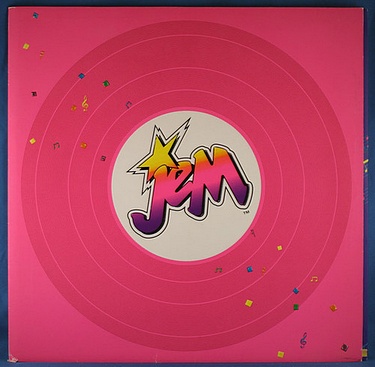 Posted by charlie on April 6th 2013, 02:06 PM
Leave Comment

Share
---
Toy Fair 2013 - Presidential Monsters
Occupying a small yet perfectly positioned corner in action figure alley was the Presidential Monsters booth. These figures, riffing on the past (and want-to-be) leaders of our country were some of the best things I saw at the whole show. I think that it is 100% certain that I will pick up a Yeti Roosevelt just as soon as I am able - I laugh everytime I think about that little guy, and the figure is beautifully done on top of it all!
Be sure to check out the video where I get the creator of the line to give us a quick tour, then
visit the gallery
for a few still images of these great creations!
Posted by charlie on March 30th 2013, 12:52 PM
Leave Comment

Share
---
eBay Watch - Space Themed Target Set by Revel
Check out this little gem - a shooting gallery with an inexplicable yet delightfully 'of the time' and amazing space theme. I tell you what - this is a good looking piece, and someone will be lucky to add it to their vintage arcade themed collection!
Posted by charlie on March 25th 2013, 08:24 PM
Leave Comment

Share
---
Transformers - Beast Hunters and Fall of Cybertron Checklists
As a helpful guide to those who are working on the collections, I'm carrying forward my proud tradition of Transformers Checklists here at the Preserve and am putting together lists for the two main Transformers lines that Hasbro currently has on shelves. Keep an eye on our
Beast Hunters
and
Fall of Cybertron
toy checklists for updates as these lines grow and mature.
I am really impressed by the variety and quality of product that Hasbro has on shelves now, and it's even mostly possible to find - what a shock! Given that they talked up at Toy Fair the massive 30th anniversary celebration that is coming soon to a toy aisle near you, and these could be seen as somewhat 'bridge' lines, they are pouring a lot of really great effort into them. When an anniversary is on the horizon, this sort of in-between product really suffers, so if we are seeing this sort of quality already, let's hope the anniversary will really be something!
Posted by charlie on March 24th 2013, 09:12 PM
Leave Comment

Share
---
Toy Fair 2013 - Codee by Techno Source
Building sets are all the rage this year, but a different and innovative product was on display from Techno Source - called Codee! Using an series of coded steps, you create robots and animals from a deceptively simple length of jointed plastic. It's colorful, fun, and mindbending - a great product that is going strong in it's second year! Check out
our gallery
of their booth, and the demo video below!
Posted by charlie on March 20th 2013, 08:41 PM
Leave Comment

Share
---
Toy Fair 2013 - Interview with Mary Rafferty of Saban Brands
Last month at Toy Fair, I had the opportunity to speak with Mary Rafferty, VP of Licensing for Toys and Hard Lines at Saban Brands. We had a great discussion about Power Rangers, Digimon, the partnership between Saban and Bandai, and the newly revived Popples line! I've transcribed the key parts of our conversation, which you can
read here
, and will be posting follow up materials related to those brands in the coming days.

Posted by charlie on March 17th 2013, 09:17 PM
Leave Comment

Share
---