News Details
G.I. Joe - Rise of Cobra: Young Snake Eyes vs. Young Storm Shadow
I was so delighted when I first heard of and then saw this set, though it would be weeks, even months before I was able to track down one for the collection. The scene from the first live action G.I. Joe movie where the young ninjas beat the crap out of each other is hands down the most violent and brutal few minutes of the film, and showcases what is probably the best talent as well. I'm so delighted that Hasbro managed to make a set commemorating this encounter, and it's made especially amusing in this scale with a forced smile on each little face. Click the image below for a few more shots of this epic battle between Young Snake Eyes and Young Storm Shadow, in cute Combat Hero scale!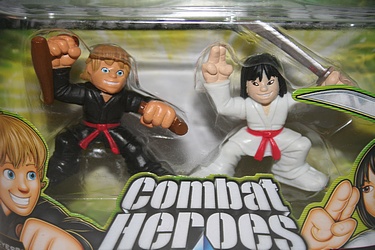 Posted by charlie on March 18th 2010, 07:12 PM
Leave Comment

Share
---
No comments have been posted.
---