MotUC - October Figures and He-Man and Skeletor Re-Releases
Mattel has released some excellent new product images from their rampagingly excellent Masters of the Universe Classics line, over on their facebook account. The figure for
this October
will be Teela, looking excellent as you would imagine. Also released that day will be one of the 'bonus figures', that of Zodak in his 'mystic enforcer' version.
Also of great interest are the first looks at how He-Man and Skeletor
will be re-released
to meet demand for these two key figures. The only modification appears to be the addition of a 'The Original' burst on the package, and a retool of Skeletor's hand. While that packaging burst seems at first to be counter-intuitive for a re-release, it in fact matches a marketing label that was used back in the day on the wave 1 He-Man figures that were released in later product waves along with all the 'Battle Damage' and other modified versions. Go Mattel, once again, for the vintage nod! We'll get some pictures up soon for those not down with the facebook.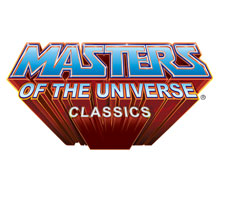 Posted by charlie on August 5th 2009, 02:07 PM

Share
---