Transformers Prime - Legion Class Vehicon
Ok, I admit that it's Friday, and I didn't have great luck with any sort of meaningful updates, or wrapping the Toy Fair coverage, or posting anything new and exciting. But, I did make a very tasty Indian curry! And, thanks to posting it a while ago and forgetting to front-page it until now, we can all enjoy a few angles on the new
Transformers: Prime
Legion Class Vehicon figure!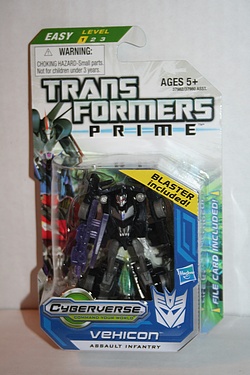 The 'troop builder' of the new line, this guy is flying off of store shelves so far. Hopefully the voracious consumption will slow before he's gone altogether, so that everyone has a chance to add a copy to their collection!
Posted by charlie on March 2nd 2012, 10:37 PM

Share
---
kaars
March 3rd, 09:41 AM

Miricals still happen! Just found wave 1 of the deluxe series from transformers Prime at a supermarket. Imidiatly bought soundwave. I notised that the european box has some slight differentes to the american.
cparry
March 3rd, 11:05 AM

Congrats on tracking them down! You probably have the only set in the country :-)

You should send us a picture of the packaging variation - I bet people would dig it!
kaars
March 4th, 07:49 AM

Do you have an e-mail adresse I can send the photos to?
cparry
March 4th, 02:28 PM

Sure thing!

You can always reach me at:
feedback@parrygamepreserve.com
kaars
March 5th, 10:55 AM

Just tried to send a mail but it failed. Got an error that your mailbox is full.
cparry
March 5th, 11:09 AM

Yikes - stupid web hosting company! Thanks for letting me know - no wonder I haven't been getting site related email for the last week! Fixing it now hopefully - feel free to re-send when you are able.
kaars
March 5th, 12:12 PM

I have just send the mail again.
kaars
March 7th, 05:14 AM

I'm still getting an error that the receivers mailbox is full
cparry
March 7th, 08:16 AM

Oh man - so lame! Sorry about that - give this one a shot:
contact@parrygamepreserve.com
kaars
March 8th, 05:14 AM

Ether somethings wrong with my email or yours becaus I'm still getting the same error
cparry
March 8th, 07:10 AM

OK - final test!

Hey Internet, here one of my real email addresses:
optimus42@hotmail.com
---
Leave a comment for this entry.