Batman - The Brave and the Bold: Taser Batman
Back to the
Batman - The Brave and the Bold
line with yet another Bats entry in the form of Taser Batman. This color scheme is pretty bold, and continues the strong design in the latest wave of figures that makes it at least slightly less distasteful to purchase a 6th, 7th and 8th Batman figure. Click on the image below for more angles of this solid figure.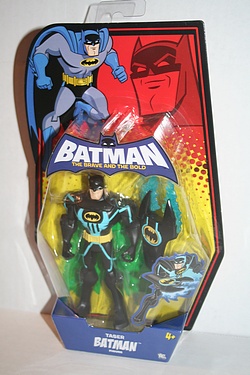 Posted by charlie on December 15th 2009, 08:43 PM

Share
---
theWife
December 15th, 09:19 PM

this batman belongs in a rave, he should have come with 2 glow sticks and "glowsticking" action...which led me to this: http://www.glowsticking.com/
---
Leave a comment for this entry.