Mattel's Ghostbusters: Egon Spengler
After posting He-Ro, I could hardly resist turning the spotlight onto the other Mattel Exclusive from the San Diego Comic Con that caught our attention, Egon Spengler! It has seemed a long wait since we first learned that Mattel had acquired rights to make Ghostbusters figures and it is exciting to at last have one here at the Preserve! I am just delighted with the packaging that Mattel has come up with for these figures, and they are even experimenting with an easy open/close clamshell design - how perfect for the collector market! The back of the package features an amazing picture of a messy desk, complete with toasted marshmallows and a post-it with the number for the Sedgwick hotel - I bet Toy Guru had a good time setting up that diorama!
The 6" figure itself is looking fantastic, and comes with an articulated Slimer figure on a clear stand! The face sculpt on Egon, while not perfect, really captures Ramis from some angles and is another win for the Horsemen. Click the image below for a bunch of packaged shots, and our full case break!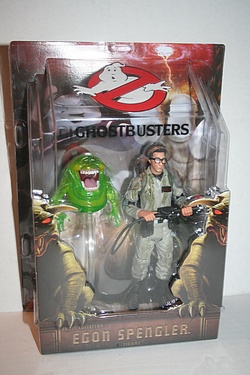 Posted by charlie on August 14th 2009, 02:31 AM

Share
---
jerry
August 15th, 05:25 PM

what does that fortune cookie say? looks like: "Any doubts you may have are...[some stuff i can't read]"
cparry
August 15th, 06:13 PM

I believe the full text is: "Any doubts you may have will disappear early this month".
jerry
August 16th, 01:55 PM

interesting.
---
Leave a comment for this entry.