News Details
GI Joe 25th Firefly
Let's get back in the saddle with the
GI Joe 25th Anniversary
updates, and today take a look at Firefly: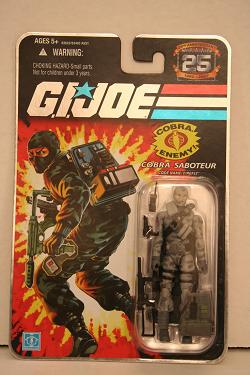 Another great figure from the past, brought to new life in stunning detail! Click the image above for expanded information about this figure.
Black Friday was, I hope, an event that most readers of the Preserve were able to avoid, unless partaken to observe the madness first hand as a grim form of entertainment. The long post-holiday drive today provided a clear view of an amazing number of Target branded semi-trucks on the highways, even a great number more than WalMart vehicles - since those appear to be the default only remaining retailers I guess that gives some insight into how the holiday sales season has been so far! At that rate they should be restocked momentarily, and with luck we might even see wave 4 of the GI Joes soon.
Posted by charlie on November 26th 2007
Leave Comment

Share
---
No comments have been posted.
---